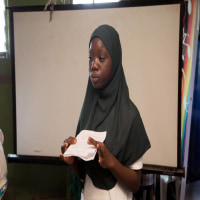 My story
I am Halimah Shittu. I am 14 years old and I live with my parents at 14, Rebecca Street, Ilaje, Bariga, Lagos. I am the second born of my parents and I have 8 siblings. My mother is a caterer and my father now works a trader since he lost his job a few years ago. I used to attend Daarul-Arqam Private School but I had to stop school because my parents could no longer afford it after my littlesister's open heart surgery. I want to be a Medical Doctor in future just like my role model - Ben Carson.
Student Motivation
Tell us why need this funds?
Since my little sister, Afwa was born with a hole in her heart, my family has had to sell practically everything we have to be able to fund her 2 surgeries in India. Since then, I and a few of my siblings have been forced to withdraw from school for over a year now. While in school, I used to be one of the best performing students and even more recently I was recognized for some of my community work promoting water, sanitation and hygiene in Ebute Ilaje by Carrington Youth Fellows who did a WASH project in my community. I really would appreciate any help and support to fund my education for at least the next one year till my family is able to find its feet. God blesss, Halimah
What do you want to be in your future?
Medical Doctor
Who is your role model and why?
Ben Carson