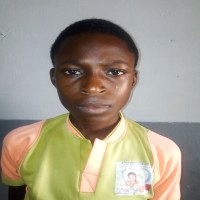 My story
Only child of my father and I live with my Grand Mother who sells fireword and petty trade to assist in my Education.
Student Motivation
Tell us why need this funds?
I currently live with my Grand Mother helping her to sell fire wood and profits from the sales is used for my school supplies. If given his fund, I will be able to focus on my Education. Thank you.
What do you want to be in your future?
Mathematician
Who is your role model and why?
Albert Einstein
Olamilekan Peter

STUDENT INFORMATION
Academic Level: Senior Secondary School
School: State High School, Lagos
Location: Nigeria
₦
0

raised
0

% of ₦

35000